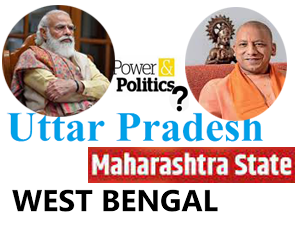 New Delhi (12.06.2021): Riled by Satraps like Yogi Adityanath and Mamta Bannerjee, and ridiculed by independent Hindutva votaries and ideologues for disappointing the Hindu voters on a number of issues, the central NDA government could move in the direction of breaking up large states like UP, West Bengal, and Maharashtra to expand its electoral base.

Administratively, it would make immense sense because experience has shown that small states are better at managing development and growth.
Politically, it would cut down the power and influence of regional satraps like Mamta Bannerjee and Sharad Pawar as well as cut to size political nuisance like UP CM Adityanath, SP leader Akhilesh Yadav, and Sena leaders like Uddhav Thackerey.
But such a political game, if it ever materializes, may not satisfy Hindutva ideologues who want the state to be rooted in ancient Hindu wisdom and all traces of foreigners' conquests of Bharat wiped out.
While the NDA government can keep the core demands of the Hindutva brigade pending, it may move on to maneuver the current political situation to corner its ideological foes which are nothing but different shades of Congress philosophy.
Let's begin with West Bengal. The previous Left Front government somehow managed to retain the Adivasi-dominated western and southwestern areas despite strong demand for their inclusion in Jharkhand at the time of the latter's formation on November 15, 2000. That demand still remains as strong as before.
Further, the North Bengal areas are linguistically, culturally, and ethnically different as they are dominated by Nepalis and Koch Rajbanshis and a number of other small groups. While Nepalis have been demanding an independent state, Rajbanshis have also been vocal about having their own state.
If West Bengal is divided into four parts - Adivasi, Nepalese, Rajbanshi area, and main Bengal, TMC will get reduced to a very small entity because in the new states, if they are created, different dynamics will get into motion at the expense of the TMC.
The demand for UP"s trifurcation is almost half a century old. It will make immense sense if it's divided into smaller states on the basis of language like Bhojpuri, Awadhi, Budelkhandi, western Harit Pardesh, Brij Bhasha areas, and Chambal regions.
In Maharashtra, the demand for Vidharba is as old as one can remember. But politicians from Western Maharashtra have so far spoiled and scuttled the demand for a different state for the eastern region with the same dexterity and cunningness with which the Bhadralok-dominated Left Front government dumped the demand for merger of Adivasi-dominated areas with Jharkhand.
Possibly, the maneuvers may begin sooner than later. The success of the first experiment may pave the way for the second, third, and other successive steps.
(By MK Shukla & Rakesh Ranjan)