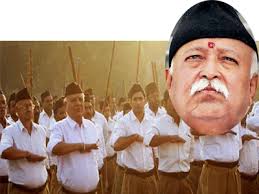 New Delhi (17.07.2021): The application of the same techniques doesn't yield different results. Yet, in politics, most of the practitioners don't get restrained: they follow the same tricks time and again in the hope that they would eventually succeed.

Readers may recall how during the Vajpayee years of 1999-2004, the left-liberal-secular brigade often helped hyped in the media the speculations about the gaps, or souring relationship, between the Prime Minister and the Sangh Pariwar. This was despite the fact that never once, Vajpayee said a word against the Pariwar or vice versa.
The same thing is happening again. The media is once again flushed with stories of how PM Modi has 'fixed' Maharashtrian Brahmins in the Sangh Pariwar as well as in the government by chucking some of them out and how he has been instrumental in the entry of Kannadiga Brahmins into the top echelons of the Pariwar.
At the same time, another wishful thinking is also having the unbridled run. According to the proponents of this thinking, Pariwar's head Mohan Bhagwat may meet the ignominious fate of LK Advani for having stated that the DNA of both Hindus and Muslims and practitioners of other religions is the same. And that he may soon be replaced for having committed a 'sacrilege.'
Will time grant such believers of an impending implosion in the Pariwar their much-liked and aspired Champagne-opening moment? Or their balloon may lose its air even without a hiss? And they may have to content themselves with a glass of 'desi tharra'.
(By MK Shukla & Rakesh Ranjan)