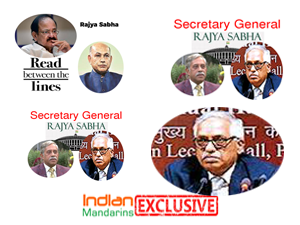 New Delhi (10.08.2022): Rajya Sabha Chairman Muppavarapu Venkaiah Naidu on Wednesday morning, while exchanging a farewell note with the Rajya Sabha senior officials, announced the resignation of Adviser PPK Ramacharyulu. He categorically underlined that "Mr Ramacharyulu could have continued as Adviser till further orders yet he submitted his resignation and I accepted it".

Ramacharyulu's resignation assumes significance also because he made the RS Cadre officers proud as he rose to the top post in 70 years since the Rajya Sabha came into being in 1952; the first ever Secretary-General of the RS in 70 years from its own cadre.
It may be underlined that it became a puzzle as his appointment order (dated 31.08.2021) as SG did not lay down the time frame that got resolved when former CBDT Chairman PC Mody abruptly replaced Ramacharyulu on 30.11.2021 for a period of nine months; throwing another puzzle why only for nine months.
After M Venkaiah Naidu's announcement, a section of insiders noted that Ramacharyulu resigned prematurely whereas other senior officials would continue till the term specified in their respective appointment/extension orders.
ALSO READ:
(CLICK TO READ INDIANMANDARINS EXCLUSIVES)