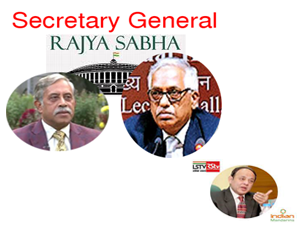 New Delhi (06.09.2021): It can't but be described as bizarre. Notification on the appointment of the new Rajya Sabha Secretary-General, Dr. PPK Ramacharyulu, missed out on defining his tenure leaving avenues for various speculations whether it's a considered decision or an indication of another surprise development on the cards. A section of cadre officers takes it this way only. It appears to have emanated from some missing links and connecting links as well.
The appointment notification, issued on the last day of August month, reads: "The Hon'ble Chairman, Rajya Sabha, has been pleased to appoint Dr. P. P. K. Ramacharyulu, Secretary, Rajya Sabha Secretariat as Secretary-General, Rajya Sabha in the rank and status of Cabinet Secretary on contractual basis with effect from forenoon of 01st September 2021 until further orders."
A section of people in power corridors makes it a point that the notification maintained a conspicuous silence over Dr PPK's tenure. It is in the open knowledge domain that any appointment/extension order usually mentions the tenure in clear terms. A section of watchers say what does this order means? Will Dr. Ramacharulu continue till VP Venkaiah Naidu remains chairman of the Rajya Sabha? Or does it mean that a move is on to wrest the post to the service which feels it is their turf?
It is murmured in official circles that New Delhi was keen to retain Desh Deepak Verma for a little more time in his SG post for his astute management of the Upper House. And why not? After all, he got this post-retirement job in lieu of the services he may or may not have rendered. Yet he couldn't prevail as the RS chairman reportedly put his foot down and made his choice abundantly clear that went in the favour of Dr Ramacharyulu individually and in favour of Rajya Sabha cadre in general.
Interestingly, the inside stories further offer a revealing viewpoint. Some well-placed sources say that Dr PPK's was considered to be drafted as 'officiating SG' but finally he was made a full-fledged SG.
Further, since Ravi Capoor's (CEO, SANSAD TV) name was also circulating in official circles as a potential choice for the coveted RS post, a section of cadre officers believe that the selective ignorance or a deliberate silence over Ramacharyulu's tenure could be meant to signal that the game for the top RS slot isn't yet up. Sources say that Capoor and his team are working hard for the launch of SANSAD TV , a fully merged fresh entity, by September 15. It is understood that once he accomplishes his job he will be up for some other top assignment or he may remain firmly footed on the turf as a natural claimant of RS SG post.
Good governance, as promised by PM Narendra Modi, may dictate that Dr. Ramacharyulu's tenure be immediately rectified so that the rumor mills are shut and the jockeying for the high voltage SG post ends. A historic step has been taken in the right direction to make a cadre officer SG for the first time in 70 years. Hence, it may be in the fitness of things to maintain the momentum in this regard.
Yet irrespective of reasons or its implications people are perplexed whether the silence of the notification over Dr Ramacharyulu's tenure as RS SG is selective ignorance or it's a well-considered move.

(By Rakesh Ranjan)