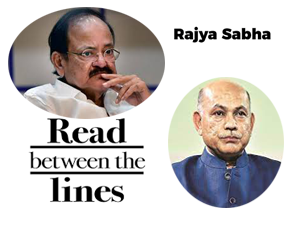 New Delhi (13.11.2021): The puzzle created by not laying down the time frame while appointing Parasaram Pattabhi Kesava Ramacharyulu last September as the first Secretary-General of the Rajya Sabha (RS) in 70 years from its own cadre has come to be resolved. He has moved as an adviser to the Vice President in an apparent deal that was probably struck long ago.

Despite the massive jockeying for the post in September 2020, as reported first by Indianmandarins (CLICK TO READ), Dr. Ramacharyulu held the post as he had the unreserved backing of VP of India and RS Chairman Muppavarapu Venkaiah Naidu.
Since Naidu's decision couldn't have been set aside, it stands to reason that a compromise was probably struck then to let the first RS cadre officer continue as the SG with an open time frame to avoid a public display of fractures in the decision-making process of the executive and legislative branches of the country.
So on Friday, Dr. Ramacharyulu was made adviser to VP Naidu and the long-pending wishes of the executive branch were fulfilled by the appointment of Pramod Chandra Mody (Retd IRS IT: 1982) as the new Secretary-General of Rajya Sabha, in the rank and status of Cabinet Secretary, on a contractual basis till August 10, 2022. According to the notification, Mody's tenure begins w.e.f. the forenoon of November 12, 2021. This translates to a tenure of nine months.
Why nine months, and not a year?
Whatever, point to be noted here is that in the recent past Mody is the third member of the Indian Revenue Service (Income Tax) to get a post-retirement top constitutional job. The other person in recent times has been former CBDT Chairman, 1980-batch IRS (IT) cadre officer, Sushil Chandra who was made Chief Election Commissioner and who happened to be Mody's predecessor in CBDT. Similarly, former CBDT Chairman K V Chowdarhy (Retd IRS IT) was made Chief Vigilance Commissioner.; probably the first IRS IT cadre member to become CVC.
Both have been famous for their dogged loyalty and earlier, this earned them the reward of post-retirement reappointment as CBDT Chairman on a contractual basis along with the additional charge of Member (Investigation) through their tenure as Chairman.
(By Rakesh Ranjan)
ALSO READ:
Rajya Sabha: P C Mody is the new Secretary-General (12.11.2021)

Silence over the tenure of Dr Ramacharyulu as RS Secretary-General throws a puzzle (07.09.2021)

Rajya Sabha Secretary-General: Dr. Ramacharyulu the first cadre officer to rise to the top post in 70 years (31.08.2021)