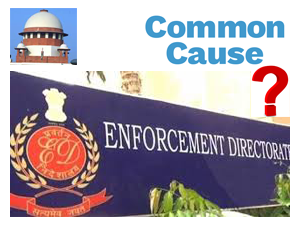 New Delhi (28.11.2020): The government had possibly foreseen it coming. And so it followed the due process to avoid an unmitigable embarrassment at the hands of regime critics who are hellbent on regime change by all means.

On November 27, 2020, unaware of the facts for extending the tenure of ED Sanjay Kumar Mishra (IRS IT:1984) by one year, NGO Common Cause filed a PIL petition in the Supreme Court. The issue, may it be noted, had already stirred a hornet's nest across the bureaucracy not only because of its tenuously concealed attempt at favoring an officer, but also because it was seen sealing off the promotional avenue of many officers down the line.
The NGO's petition, filed through its lawyer Prashant Bhushan, argues that Section 25 of the Central Vigilance Act, 2003, stipulates that only an officer holding a rank higher than that of an Additional Secretary would be considered eligible for appointment as ED.
The petition states: "As (Respondent No. 2) Sanjay Kumar Mishra has already reached his retirement age in May 2020, therefore, after the end of Respondent No.2's two-year period on November 19, 2020, the Respondent No.2, by virtue of not holding any post above the rank of Additional Secretary, would have been ineligible for appointment as a Director of Enforcement again."
The PIL is seen as flawed in its pivotal point. According to the database of Indianmandarins.com, Mishra was empanelled by the ACC on 04.12.2019 to hold Secretary/Secretary-equivalent posts at Centre, followed by the ACC upgrading on 13.12.2019 the ED Chief post to the rank and pay of Secretary, Govt of India.
However, the petition argued that, since Mishra didn't hold a rank above that of additional secretary at the end of his two-year tenure on November 19, 2020, and since he had already hit the retirement age in May 2020, he had already lost the eligibility for the extension of tenure.
The NGO pointed out that Mishra's extension was facilitated through the adoption of a circuitous route of retrospectively modifying the initial appointment order dated 19/11/2018. So what couldn't be done directly was done indirectly, it said.
Its petition highlights: "Thus, by virtue of the impugned Office Order, dated 13.11.2020, the appointment order dated 19.11.2018 has been modified with retrospective effect and the Respondent No.2 (Sanjay Kumar Mishra) herein has been given an additional one year of service as Director of Enforcement in the Enforcement Directorate."
Officers point out that though every administration has a legitimate right to select and appoint officers of their choice, this right can be exercised only by following the administration's own time-tested due processes. In the case of Mishra, the government had respected and followed due process. "The NGO doesn't seem to have done its homework properly, though guided by former bureaucrats", remarked an officer.
It's a different thing that the exercise of the right to grant extensions and reappointing officers of their choice has its own pitfalls since it militates against the philosophy of maintaining the neutrality of bureaucracy in our democratic setup as also because it disrupts the career prospects of officers down the line
In the past too, the administrations have been seen obsessed with appointing and reappointing their officers of choice. But in recent times, it is seen as becoming a policy substitute.
Take, for instance, the case of reappointment of PC Mody as CBDT chairman on a contractual basis for a year followed by an extension once again for six months in September 2020. While the due process was followed in his reappointment - never mind the career prospects of Nishi Singh and Gopal Mukherjee were trampled in the process, look at the mess the CBDT has become: there is no regular Member (Investigation) in CBDT since April 2018. The additional charge of Member (Investigation) is vested in Chairman after Gopal Mukherjee retired in March 2018 as Member (Investigation). On top, at least three posts of member CBDT are lying vacant for a long time.
Similarly, for reasons best known to the authorities, recently, Culture Secretary Raghvendra Singh, who after retirement was made the CEO in charge of Development of Museums and Cultural Spaces, was reverted to his old job of culture secretary through reappointment in addition to his extant job of CEO.
More names could be added to the list of officers who have been favored with extension and reappointment. Which could further prove that ad hocism and favoritism remain ingrained in India's governance culture as before, despite whatever one may claim or boast.
(By MK Shukla and Rakesh Ranjan)
ALSO READ:
ED's extension of service challenged (27.11.2020)

"Modification": ED Chief gets extension albeit in a different way (14.11.2020)