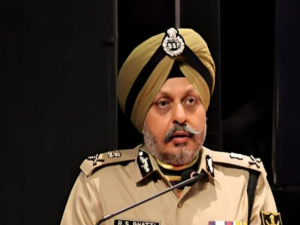 New Delhi (25.09: 2023): If top sources are to be believed, Rajwinder Singh Bhatti (IPS: 1990: BH), the incumbent Bihar DGP, is keenly gauging the prospect of getting a DG rank position in Central Paramilitary Forces or Central Police Organisation. Though, insiders didn't give any weightage to the rumour yet it drew attention.

It may be underlined that Bhatti, an ace police officer who has the credit of arresting notorious don late Syed Shahabuddin, an Ex-MP from Bihar, was appointed as State DGP in December 2022. Having a clean and credible image at the Centre during his tenure as Joint Director, CBI and CVO of Airports Authority of India (AAI), the New Delhi establishment may not be much hesitant to place at the Centre but that's a different story.
Rumours about him seeking a posting at the Centre within a year of being appointed as State DGP is something that fuels speculations. A section of senior officers belonging to Bihar Cadre feels that it's not a smooth ride for Bhatti to manage things post JDU & BJP split scenario. Ahead of 2024 Lok Sabha Polls, handling the law & order (Bihar ka bawaal) will be too tough to live up to the expectation under the RJD-JDU government.
Then what does this rumour mean? Does Bhatti want a more peaceful assignments at the Centre like DG CISF? In fact, the inordinate delay in the appointment of the new DG for CISF has fuelled the speculation.
ALSO READ: