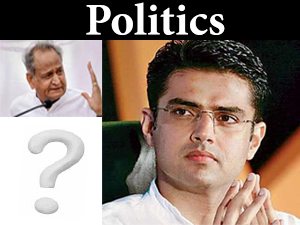 Rajasthan CM Ashok Gehlot has been unceasing in the quest for consolidating his power base since the revolt of Sachin Pilot shook him to the core. And such remains his continuing or perhaps escalating fear of Pilot and others that he has begun to clutch at every straw to neutralize his feeling of sinking or getting besieged by his political rivals in and out of the Congress Party.
Look at the way he has been entreating, or rather begging, for the support of creamy layers of scheduled caste retired bureaucrats in exchange for having appointed Niranjan Arya (IAS:1989:RJ) over the heads of 10 IAS officers senior to him to the coveted and much-aspired post of the state chief secretary.
In a letter responding to compliments of senior retired IAS SC officers like Mahendra Singh, Lalit Panwar, Lalit Mehra, Shriram Chauradia as well as some retired IPS SC officers Jaswant Sampatram, RP Singh, and others, he thanked them all for acknowledging that his appointment of Niranjan Arya as CS was a right step in the direction of implementing the dreams of Dr. Babasaheb Ambedkar.
Did Dr. Ambedkar really dream of, much less called for, appointing an SC officer over the head of 10 of his seniors to the top job in state bureaucracy? Well, even the most spurious stuff is passed on these days in the name of Babasaheb.
While creamy layers among the SC play the same game that they accuse others of playing against them, senior officers are disturbed over Gehlot's unconcealed attempt at seeking the support of retired SC officers for making the tenure of Niranjan Arya a success.
One wonders how could retired SC officers make Arya succeed unless they are allowed to interfere in the administration. Will Gehlot and Arya allow it?
Maybe the CM was just being polite in responding to retired SC officers' combined letter. Or Maybe he is engaging them to reach out to the SC community to consolidate his power base in the face of a clear and present threat to his job. Whether it may work or not, but he is surely seen setting a bad precedent in governance.
(By Rakesh Ranjan)
ALSO READ:
Arya's appointment as Chief Secretary help Gehlot spite his rivals?