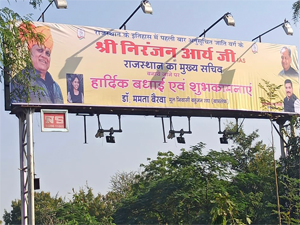 The pink city turned pink in the last few days as the All-India Backward and Minority Communities Employees Federation, known more by its acronym BAMCEF, went overboard in its excitement to congratulate CM Ashok Gehlot and his administration for having appointed Niranjan Arya (IAS:1989:RJ) as the new Chief Secretary of the state, superseding 10 officers in the process.
Overnight, hoardings and banners were plastered all over Jaipur congratulating and complimenting Arya as if he were a political personality whose victory like appointment deserved to be celebrated in public spaces.
While this may show that Arya's selection as CS, like all other selections of officers for crucial posts all over the country, may have stemmed from the politics in the state, it is pointed out that Arya's 'most meritorious services' as the state's finance secretary earlier in not releasing funds for Sachin Pilot headed PWD and Panchayati Raj Institutions had made a deep impact on Gehlot. And, therefore, when Gehlot was driven by the Central government to pick and choose a new CS instead of extending the tenure of the previous CS, his choice zoomed in on Arya.
In state politics, Gehlot has been known for his partiality towards the Arya family. When Niranjan's wife Sangeeta Arya contested the last Vidhan Sabha elections on a Congress ticket and lost her deposit, the CM made her a member of the Rajasthan Public Service Commission (RPSC). No one could do a damn then.
Arya's appointment as CS has also enabled Gehlot to spite his old political rival CP Joshi in the state politics, who is currently the assembly speaker. Joshi's close relative and seniormost IAS officer Usha Sharma, wife of CP's brother in law and retired IAS officer BN Sharma, was elbowed out along with 09 other senior officers to signal everyone that Gehlot's desires rule the roost.
Consequently, there are rumblings in the ruling Congress party. Already, some leaders have taken the matter to the high command which may end up doing nothing because the core of its politics pivots around appeasement.
(By Rakesh Ranjan)