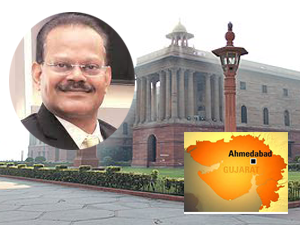 New Delhi (24.11.2021): In all probability, union defense production secretary Raj Kumar (IAS:1987:GJ) may take the charge of Gujarat's chief secretary (CS) but only after May 2022 when the incumbent CS Pankaj Kumar (IAS:1986:GJ) retires.

Even though Raj Kumar's repatriation was announced all of a sudden on November 13, 2021, it is not considered feasible at the moment to send him off to the state in view of his required presence, being the man on the spot, for facilitating a lot of emergency defense purchases that are taking place. This may explain why even ten days after his repatriation order was issued, he hasn't yet been relieved. This may also explain why the Gujarat government is also not showing any urgency in the matter.
This lack of urgency on the part of both central and state governments has made some officials wonder why then was the repatriation order issued at all. It is argued that the order could have waited. Was there some goof up? Or was there some breakdown of communication? These questions have arisen particularly because Raj Kumar is seen as a 'confidante' of both the central and state government.
In view of Kumar's place in the scheme of things, sources say that sooner or later, whenever the Centre relieves him to move to the Cadre state, it possibly wanted to prepare him for the new posting as he has been away from the state since 2015 when he was made Central government's Joint Secretary, Department of Economic Affairs in the Ministry of Finance.
Further, the advantage of making Raj Kumar Gujarat CS in May 2022 is that it wouldn't disturb the hierarchical order very much, even as he may be able to steer the state through the crucial months in the runup to state assembly elections scheduled for December 2022.
Kumar's service tenure will last till 2025, and so his services would be available to the government even during the May 2024 Parliamentary elections.
The immediate problem associated with making Raj Kumar CS now is that it will simultaneously trigger the need to place three senior 1986 batch IAS officers Pankaj Kumar, Rajiv Gupta, and Vipul Mittra in desirable slots. But if Raj Kumar goes to Gandhinagar in May-June 2022, his seniors Mittra and Gupta could be satisfied and accommodated with independent assignments before he turns up in Gandhinagar. Time may reveal what those independent assignments could be for the two superseded officers.
Initially, Raj Kumar's repatriation aroused a lot of interest and curiosity, some were even adverse. As it turns out, however, it seems to have been inspired by cold political logic.