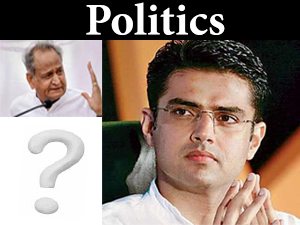 Jaipur (26.09.2022): After Rahul Gandhi categorically stated that there will not be any compromise on one person, one post norm, Rajasthan chief minister Ashok Gehlot trying to put pressure on the leadership to retain the post of Rajasthan CM by some other tactics when over 80 MLAs threatened to resign. State legislator Pratap Singh Khachariyawas said that all the MLAs are angry and are resigning as they were not consulted before the decision.

Meanwhile, the Rajasthan CM had expressed his willingness to contest for the president's post. Gehlot is trying hard to retain the CM's post, if he is appointed party president. Filing of nominations for the post of Congress president began on Saturday with a contest between Ashok Gehlot and former Union Minister Shashi Tharoor on the cards.
The nominations will be filed till September 30 and results declaring the new Congress chief will be announced on October 19. This will be the first time in 25 years that Congress will see a non-Gandhi chief after Sonia Gandhi replaced Sitaraman Kesri as party chief in 1998.
The last time the party had a non-Gandhi chief was in 1997 when Sitaram Kesri defeated Sharad Pawar and Rajesh Pilot. Chairman of Central Election Authority Madhusudan Mistri will be available in Congress headquarters in the national capital to take the nomination papers as returning officer of the election. Gehlot had earlier made it clear that there will be no candidate from the Gandhi family this time.