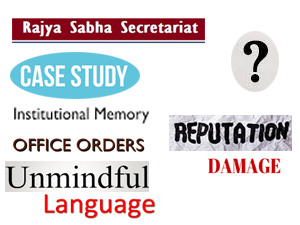 Deteriorating English language skill of central government officials show no signs of improvement. Consequently, a case of ghastly and shocking error, that casts a shadow on the service/professional record of a senior Indian Information Service officer, has come to light recently.

AA Rao has been serving on a year's contract as Additional Secretary in the Rajya Sabha Secretariat since August 2019 and his contract naturally expired on 31.08.2020. Reportedly, Rao was offered an extension for another year (beyond 31.08.2020) as OSD in the status of Additional Secretary which he did not accept for personal reasons and chose to demit the office on 31 August 2020.

However, the order issued earlier in this regard mentioned that Rao's services were 'terminated' instead of mentioning the word 'expiration'. Clearly, the issuing authority just signed on the order that caused avoidable and unacceptable damage to Rao's reputation.
Later, on 05 September 2020 (Saturday; a non-working day), the Rajya Sabha Secretariat issued a revised order that reads; "In supersession of Notification No. RS/20/2020/95-Perl dated 01.09.2020, on completion of tenure of engagement of Shri A. A. Rao as Additional Secretary in the Rajya Sabha Secretariat on contract basis w.e.f 1 September 2019 to 31 August 2020, he has relinquished the charge of the office of the Additional Secretary in the afternoon of 31 August 2020"
This reflects poorly on the institution. Several senior officials in Govt of India raised questions saying what about the damage done to the senior officer who was in several media reports branded as a non-performer, deadwood etc.
Rao, a retired Indian Information Service officer once led DD News as director. It may be underlined that Rao had coined the acronym of MODI as 'Making of Developed India' and 'Mission of Developing India' that appeared on Government ads under caption and was widely used by Venkaiah Naidu during NaMo' first tenure as PM.
He is seen as a close confidant of Vice President and Rajya Sabha Chairman M Venkaiah Naidu and handled the latter's media publicity for several years. As such, and because of his long years of service, he deserved some courtesy in the announcement of his contract expiry.
Using language unmindful of its meaning and implication, by an exalted institution like RS Secretariat, for whom every word matters, is disturbing. It's a classic case that requires to be part of the unforgettable institutional memory.
ALSO READ: