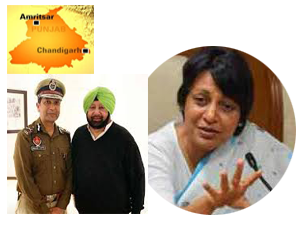 Bowing to the pressure from cabinet colleagues the Punjab Chief Minister Capt Amarinder Singh has transferred the Chief Secretary Karan Avtar Singh (IAS:1984:PB) over 60 days ahead of his retirement and appointed Ms Vini Mahajan (IAS:1987:PB) as new Chief Secretary to the Government of Punjab. She becomes the first woman CS of Punjab.

Punjab is the only state where a bureaucrat couple holds top positions in civil & police administration. Mahajan's husband Dinkar Gupta (IPS:1986:PB) is DGP of the state.
ALSO READ:
The government takes away the excise department from CS
(13.05.2020)
Vying for the head of Punjab Chief Secretary?
(14.05.2020)
Punjab CM apparently meets legislators to buy peace over CS?
(21.05.2020)
Punjab CS apologies to minister; Principal Secretary to CM too joins the office

(28.05.2020)