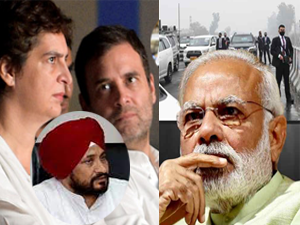 New Delhi (13.01.2022): The Congress Party is said to be pleased with the down-to-earth approach of its Punjab CM Charanjit Singh Channi. In fact, the party has come to believe that leaders like him elsewhere could help neutralize the BJP's ascendance.

Even though the Congress Party is said to be elitist in its elan, it was pleasantly surprising when the Punjab CM held his ground and took on the BJP on the issue of the PM's security breach.
Indeed, in recent TV interviews, Channi made a mark and underlined that only effective communication and assuring gestures could compete with BJP's ultra-aggressive politics.
He is said to have been hugely applauded for the way he dealt with the crises related to PM's security breach during his visit to the state on January 5. Post-Punjab incident BJP had upped its campaign against the state government but Channi is credited with neutralizing it swiftly and effectively.
Though humble by nature, he is said to be very effective in decision-making for the poor. He makes simple arguments and most often disarms his opponents with straight answers. His dozens of pro-people decision during a short span of time has earned him a lot of credit among the present lot of CMs in Congress-ruled states.
It is believed that Channi has emerged as an answer to Congress' unending crises and has given a clue to the top leadership that by doing away with the elitist structure and nurturing such grass-root leaders the Party can hope to re-emerge with a bang and take on the might of the BJP growing since 2014.
(By Rakesh Ranjan)