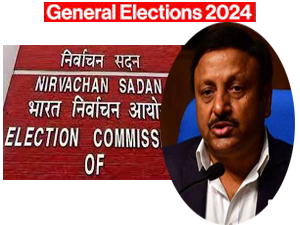 New Delhi (12.05.2022): The Union Government on Thursday appointed Rajiv Kumar (Retd IAS:1984:JH) has been appointed as the Chief Election Commissioner (CEC) with effect from May 15 vice Sushil Chandra (Retd IRS IT:1980) who will demit the office of the Chief Election Commissioner on May 14, 2022.

Union Law Minister Kiren Rijiju announced his appointment as the Chief Election Commission. Notification to the effect was issued by the President of India.

He superannuated from the IAS as Union Secretary, Department of Financial Services (DFS) in February 2020 and later became the Chairman of the Public Enterprise Selection Board (PESB). Further, on September 1, 2020, Kumar was appointed as the Election Commissioner.

He will complete his term in the office in February 2025 and thus he will be the CEC during the 2024 Lok Sabha polls.
ALSO READ: