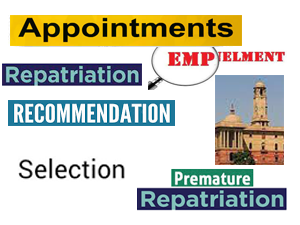 New Delhi (28.03.2023): Notifications of appointments and recommendations issued on Tuesday are as follows:
Muni Ram Meena (IOFS: 2008) was re-designated as Director in the Department of Public Enterprise for a period up to 07.09.2026 i.e. total tenure of five years. He counts his central deputation tenure w.e.f. 08.09.2021.
Saurabh Tolumbia (IPS: 2007: GJ) was appointed as Adviser (Security) GAIL in the rank of DIG for a period of three years.
PESB selected Atashi Baran Pradhan (GM, HAL) for the post of Director (Human Resources) in Hindustan Aeronautics Limited (HAL).