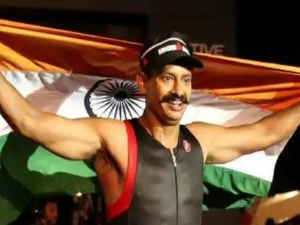 New Delhi (28.03.2023): Krishna Prakash (IPS: 1998: MH) has earned a title for literally swimming against the tides. As part of the 'Drowning Prevention Awareness' campaign, Prakash swam from Gateway of India to Elephanta Caves, Mumbai. He covered the 16.20 km long distance in 5 hours and 26 minutes to create a history. The officer posted a video of the "daunting task" and shared the news on Twitter.

He tweeted: "Today I completed the daunting task of swimming from Gateway of India to Elephanta caves and became the first person in the world to do so." He further elaborated and wrote that contrary to the popular swimming route of Elephanta caves to Gateway of India where swimmers ride the waves of the high tides towards the gateway, he did it from the reverse side against the waves and swam a distance of 16.20 km in 5 hours 26 minutes.
He is the first IG rank officer to complete Ironman and Ultraman triathlons. He is also the first Indian to finish the Race Across The West (RAW) cycle race. He often practised at Manas Lake in Pirangut and did Mumbai-Pune cycling trip several times.