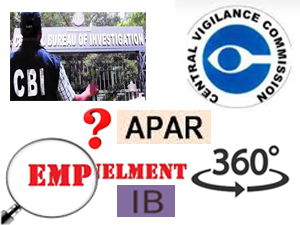 The 360-degree method of empanelment of officers, which opened the window for retired officers to influence the careers of some of the best serving officers, is once again in focus, thanks to the bold decision taken by the ACC to not necessarily act on the advice of the 360-degree committees, and going to the extent of rejecting their advice as and when required.

In this regard, UT cadre officers cite the case of G Narendra Kumar (IAS:1989:UT) whose name finally appeared in the list of the review empanelment order issued on 22.09.2020, though Kumar's name didn't figure in the first list (Empanelment for holding Additional Secretary level post in Govt of India)made public on 19.07.2018. It is pointed out that Kumar is known as a no-nonsense officer but suffers from the 'disability' to network and hence had to suffer the humiliation and trauma of not figuring in the first list.
Several UT cadre officers told Indianmandarins that Kumar was always considered among the best lot of officers. However, because of his honorable conduct, a web was created to discredit him and block his growth in administration. Subsequently, the web was discovered to be fabricated by a tissue of lies. But the damage to Kumar's career was already done. Though the NaMo administration sends a message, at least in this case, that fairness may be delayed for a while but may not be denied in perpetuity.
Look at the way Kumar was hounded.
In the third week of September 2017, the CBI booked G Narendra Kumar, then Chairman of the Puducherry Centralised Admission Committee, and 12 others in connection with the alleged irregularities in the admission procedure for postgraduate medical courses in private institutions. CM V Narayanasamy had then on 21.09.2017 told reporters in a veiled reference to the then Lt Governor that some people at the top were 'preoccupied with victimizing' officers of the UT of Puducherry.
The CM had also asserted that the booked officers had not violated any rules or procedures as separate committees, appointed by the Madras High Court, were on job to fix fees, and monitor the admission process in the medical colleges and the Medical Council of India (MCI) supervised the admissions.
The bottom line is: Will the government continue to indulge retired officers, many of whom - as many as 140 -have formed a group and keep issuing unsolicited statements against the BJP governments because of their past association with the Congress-UPA governments as well as with some foreign-funded NGOs associated with "breaking India forces." Why not check the administrative and political antecedents of retired officers before soliciting their dated and expired advice on the performance records of serving officers? Why not indeed?
(By Rakesh Ranjan)