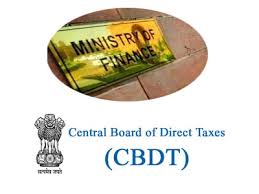 New Delhi (28.06.2022):
As Indianmandarins reported first on June 17, 2022
(CLICK TO READ OUR REPORT)
,
Nitin Gupta (IRS IT:1986)
on Monday took over as the new Chairman of the Central Board of Direct Taxes (CBDT). Earlier, he worked as Member (Investigation). He replaces
JB Mohapatra (IRS IT:1985)
who retired on April 30 following which
Mrs Sangeeta Singh (IRS IT:1986)
was on May 01 made interim Chairman of the Board.
In view of the precedents set, a section of officials believes that he may continue to hold the charge of 'Investigation' till his retirement in September 2023 or beyond - like his predecessors Sushil Chandra (Retd IRS IT:1980) and Pramod Chandra Mody (IRS IT:1982) on re-employment on a contractual basis.
It may be recalled that for the first time during Chandra's term as Chairman, the charge of 'Investigation' was virtually fused with the Chairman's post. After retirement, Chandra was re-employed on a contract basis still vested with the charge of 'Investigation'. The same happened in the case of PC Mody also.
This gives credence to the belief among a section of top IT officials that the same may repeat after Nitin Gupta retires in September 2023. As in the case of Chandra & Mody, the Centre may prefer to let Gupta continue under the same framework i.e. re-employment on a contract basis with extensions until 2024 LS polls.
(By Rakesh Ranjan)
ALSO READ: