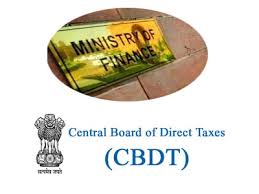 New Delhi (17.06.2022): With a key IT official getting clearance in an old vigilance case the Central Board of Direct Taxes (CBDT) appears to be heading towards a regular Chairman; a coveted post which has been under interim arrangement since 01 May following the retirement of JB Mohapatra (IRS IT:1985) on April 30, 2022.

Indianmandarins had in its report dated 14.04.2022
(CLICK TO READ)
underlined that the opening of old vigilance cases might eclipse the prospects of key contenders for the Chairman post including Nitin Gupta (IRS IT:1986); the incumbent Member (Investigation).
Having secured vigilance clearance in the old case Gupta is said to have managed his career prospects. A section of IT officials believe that now the New Delhi establishment may initiate the process for appointing a regular Chairman for the Board.
It may be underlined that following the superannuation of the then CBDT Chairman JB Mohapatra (IRS IT:1985) the New Delhi dispensation on May 01 made an interim arrangement till the appointment of a regular Chairman.
ALSO READ: