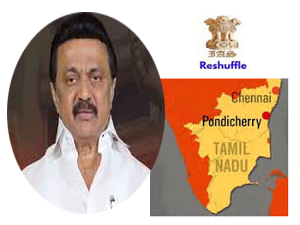 Tamil Nadu (07.05.2021): The newly elected Chief Minister of Tamil Nadu M K Stalin picked five IAS officers in the Chief Minister's Office. Immediately, after assuming the office Stalin got four new posts created including a Principal Secretary to CM (Higher Administrative Grade) and three temporary posts of Secretary in Super Time Scale for a period of one year.

T Udhayachandran (IAS:1995:TN) emerged Stalin's choicest officer as Principal Secretary to Chief Minister. Presently, he is working as Principal Secretary/Commissioner of Archaeology.
Further, Dr P Umanath (IAS:2001:TN), Anu George (IAS:2003:TN) and M S Shanmugam (IAS) were drafted as Secretary to the CM.
Also, IAS officer Shilpa Prabhakar (IAS:2009:TN) was drafted as the Special Officer of "CM in Your Constituency" an initiative to redress the grievances of the public. It may be underlined that today Stalin signed a file to redress the grievances of people in 100 days. Stalin during his campaigning received petitions from the people and promised to redress their grievances within 100 days after assuming office by creating a new department headed by an IAS officer.