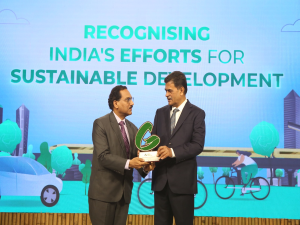 Gurugram (28.02.2023): REC Ltd has been felicitated by Network 18 with the 'Green Ribbon Champions' award as a testament to its commitment towards Environmental Sustainability. Minister of Power and New & Renewable Energy R K Singh presented the award to Vivek Kumar Dewangan, CMD, REC Limited in an event organized in New Delhi on March 25, 2023.

REC Ltd has been recognized for its remarkable contributions to develop a sustainable future for the country. It has been at the forefront of driving sustainability projects all over India to reduce carbon footprints, encourage green energy production, and ensure a sustainable and reliable power supply. REC has aided various projects such as the installation of a one MWp Solar Photo Voltaic System on the rooftop of the Madurai Kamaraj University (MKU) campus, the installation of 245 KW off-grid solar power plant and solar-based LED lights at 13 campus buildings of Odisha's Sambalpur University, installation of 500 Solar Street Lighting systems of 12 Watts with Remote Monitoring System (RMS) in Himachal Pradesh and 1650 LED based Solar Street Lights in Maharashtra etc. REC is emerging as one of the largest lenders of Renewable Energy projects and financing e-mobility infrastructure, manufacturing of solar cells & modules, hybrid renewable, pollution control equipment projects, etc.
REC has been harnessing green energy & is determined to reduce its carbon footprint. To ensure a greener and cleaner tomorrow, 100 per cent of the energy needs of its Corporate Office are being met by the Solar Rooftop Pergola that results in a yearly carbon reduction of 1186 MTs, equivalent to 19,617 tree seedlings grown for ten years. REC's office building is run by an integrated 100 per cent wastewater management system through rainwater harvesting, allowing 10 million liters of rainwater to be collected annually.