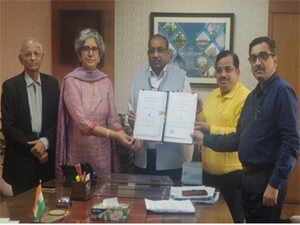 New Delhi (28.03.2023): To mitigate acute shortage of housing in Republic of Zambia, NBCC on March 27, 2023 signed an MoU for cooperation with Scirocco Enterprises Limited of Zambia for construction of mass housing (low and medium cost). It is envisaged to construct around 100,000 housing units by 2030.
The MoU was signed through virtual mode by K P M Swamy, Director (Commercial), NBCC (India) Ltd and Maustafa Saadi, Chief Executive Officer, Scirocco Enterprises Limited in the presence of P K. Gupta, CMD, NBCC. B K Sokhey Director (Finance) and Pradeep Sharma, HoD (BD), NBCC were also present on the occasion.
NBCC will provide its state of the art engineering services as EPC Agency. It is to mention that NBCC has successfully completed Social Housing in Mauritius and Construction of Social Housing units at Maldives is under progress.