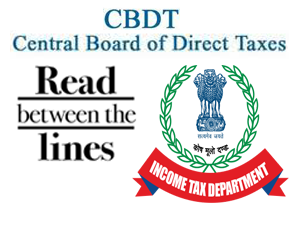 New Delhi (08.06.2021): Certain developments in the Income Tax Department in the last week of May and June first week have left many questions unanswered.

The series of developments took place in quick succession and offers many aspects to 'read between the lines'.
On 27 May, the CBDT got three batchmates as new Board Members: Ms. Anu J Singh (IRS IT:1985), J B Mohapatra (IRS IT:1985), and Ms. Anuja Sarangi (IRS IT:1985).
The roster notified on 03 June made Mohapatra ad-hoc Chairman (additional charge) of CBDT in addition to the regular charge of Member (Investigations) - making him the first regular Member for Investigation after Gopal Mukherjee's retirement in Feb 2019. And in line with the trend that started with Sushil Chandra, the Member (Investigations) post appears to have become fused with the Chairmanship.
Mohapatra's appointment as interim chairman drew the attention of one and all as they wondered why the senior-most Board member KM Prasad was sidelined. Since Prasad was scheduled to retire in another 90 days, no harm could have come in giving him the additional charge of the interim chairman, more so because he could not be made the full-time chairman for which one must have a minimum of six months of residual service.
It is believed that what clicked in favor of Mohapatra is the fact that he is politically well connected.
Further, the charge of Systems was taken away from SK Gupta, who handled it for the last 12 months and was allocated to the newly appointed Member Ms. Anu J Singh who was formerly DG (Systems). Gupta would retire on 31.07.2021 and Ms. Singh on 31.08.2021 within a gap of 31 days.
Some officials see this as a signal for extending the services of Ms. Singh. But Ms. Singh's extension, if she gets one, may not be to the liking of Mohapatra for some reasons.
Further, it seems that the new Board may lack stability. Of three new members, Anu J Singh has only 90 days to retire (i.e. Aug 2021) whereas Mohapatra will retire in April 2022. The other two members S K Gupta (IRS IT:1984) and KM Prasad (IRS IT:1985) will complete their terms on 31 July and 31 August respectively.
Effectively, it means more new members may be drafted in the Board unless extensions are given to new appointees.
Notably, the vacancy against Chairman post (vice PC Mody) has already been raised w.e.f. 01.06.2021.
Meantime, most people are wondering how Ms. Anuja Sarangi who previously worked in sync with the then Chairman PC Mody as Board's CVO, will navigate her course. In the given situation, she may find herself in not too pleasant a situation.
For instance, it is pointed out that after taking over as Member Vigilance (adjudicating authority), on 31/05/2021 she recommended the filing of a charge-sheet against the then PCCIT, Madurai. Merely six months back, as proposing authority (CVO), she had found no complaint against Nabar and endorsed him as a fit case for promotion from CCIT to PCCIT.
It will be interesting to watch how she balances the contradictions of her two aforementioned decisions.
She has a tight-rope-walk while managing the validity of decisions she took as the CVO previously.
(By Rakesh Ranjan)
ALSO READ:
CBDT gets three new Member (27.05.2021)
CBDT Chairman: Ad hoc arrangement continues, Mohapatra gets additional charge (31.05.2021)
CBDT: Work allocation among Board members notified (03.06.2021)