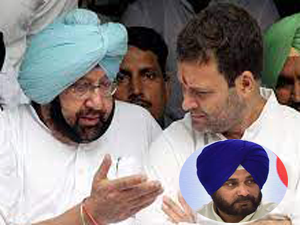 New Delhi (01.07.2021): The intervention of former Congress chief Rahul Gandhi has rescued the situation in Punjab. Now, Congress is ready to make some headway as changes are likely not only in the organization but also in the government. A compromise has been reached to accommodate rebel Congress leader Navjot Singh Sidhu. Peace in the party is also important as elections are not too far and Punjab is the only state where Congress has some chances to return to power once again.

Sidhu met Rahul Gandhi and also party general secretary Priyanka Gandhi Vadra on June 30 to express his grievances but hectic parlays of the senior leadership helped to reach an amicable solution. Sidhu agreed to end rancor with Punjab chief minister Amrinder Singh which will help the Punjab Congress to contest triangular Assembly elections in a better way.
The Congress has a fair chance to repeat its last performance in Punjab with Shiromani Akali Dal (SAD) joining hands with BSP in the state as it parted ways with the BJP and AAP facing a credibility crisis all across. Moreover, the BJP is no force in the state, and whatever little support base the BJP had in Punjab was swept away by farmers' protest.