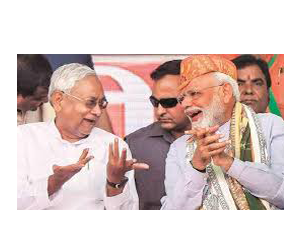 New Delhi (29.04.2022): Bihar has been witnessing a few signals of political upheavals though broadly undercurrent. Conjecture is being made whether Nitish Kumar will part ways with the BJP like in the past when he joined Lalu Prasad-led RJD a few years back or New Delhi Dispensation will draft him as Vice President of the country or will through his hat in the ring joining the opposition parties as one of the contenders of the Prime Minister for an alternative government in 2024?

As many people that many views but one of the senior-most IAS officers (serving/superannuated) pointed out rightly by saying Nitish has found himself under "Angad's feet" which by no means he could get himself rid of its grip. Apparently, Nitish is under Angad's feet from where his fate can be decided only when Angal lets him go. This is reflected in his desperation when last week he joined the RJD Iftar party of the RJD and people say that he remained there to see off the last guest. Coup in the Lalu family and other factors will lead to Nitish Kumar meeting the fate of Mayawati.

Ever since he showed up with Lalu, he lost his credibility and vanished his bargaining power and has been under BJP's shadow since then. Whatever be the future course of his politics with a shrinking political base, he may not be a viable choice for the united opposition as an acceptable alternative for 2024.