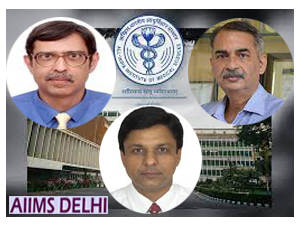 New Delhi (29.04.2022): The incumbent Director of All India Institute of Medical Sciences (AIIMS), New Delhi Dr Randeep Guleria is scheduled to complete his extended term on 24 June 2022 while the search for his successor is underway.

If some well-placed sources are to be believed three colleagues at AIIMS New Delhi are in the race for the coveted post namely; Dr Rajesh Malhotra, Prof of Orthopedics; Dr Nikhil Tandon, Professor of Endocrinology; and Dr Pramod Kumar Garg, Professor of Gastroenterology and Associate Dean (Research).
With several applications, in addition to a few surprising names as applicants, it is expected that the New Delhi dispensation may appoint the new Director well before Dr Guleria completes his extended term.