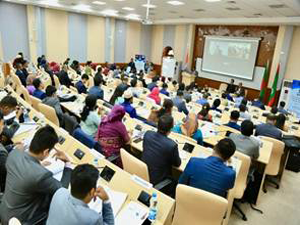 New Delhi (09.05.2023): National Centre for Good Governance (NCGG) has started three capacity-building programmes (CBPs) for the civil servants of Bangladesh (59th batch with 45 participants) and Maldives (22nd & 23rd batch with 50 participants) at Mussoorie campus. NCGG's capacity-building initiatives for the civil servants -- domestic as well as other developing countries -- aim to promote citizen-centric public policies, good governance, and enhanced service delivery to improve the quality of life of citizens by reaching out to the last person.

In partnership with the MEA, NCGG has taken up the responsibility to build the capacities of civil servants of various developing countries. So far, it has imparted training to over 3,500 civil servants from 15 countries viz. Bangladesh, Kenya, Tanzania, Tunisia, Seychelles, Gambia, Maldives, Sri Lanka, Afghanistan, Laos, Vietnam, Bhutan, Myanmar, Nepal and Cambodia. These trainings were found to be useful by the participating officers of different countries. Also, NCGG has been involved in the capacity building of civil servants from various states in the country. These programmes are much sought after and as desired by the MEA, NCGG is expanding its capacity to accommodate a higher number of civil servants from more countries as demand is on the rise. In 2021-22, NCGG conducted 8 programme and 236 civil servants participated. This was trebled in 2022-23 and NCGG organised 23 programmes and 736 civil servants attended. For the year 2023 –24, NCGG has planned a 3-fold increase in this programme and 55 such programmes will be held to accommodate 2,130 civil servants.
Its aim is to equip civil servants with the necessary skills to tackle complex and challenging issues. The two–week long programme will help them to update their knowledge and skills with emerging digital tools and best practices of good governance. Bharat Lal, Director General, NCGG, threw light on how it was under this philosophy that India aided not only neighbouring countries but a very large number of countries of the whole world, with medical supplies and vaccines to fight the COVID-19 pandemic. Similarly, the citizens of India were also able to avail of free vaccination in minutes and over 2 billion doses were administered in 7 – 8 months. This is only due to the technological prowess India has attained. India has also been leveraging technology to help its citizens for examples online railway ticketing systems, online payment of pensions and scholarships, and passport services, Government e-Marketplace (GeM), which have been the game changers in saving time, bringing in efficiency and eliminating corruption.