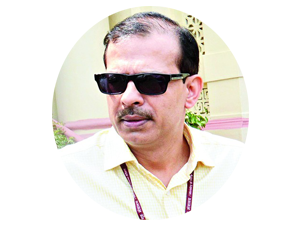 New Delhi (01.10.2021): Officials were taken by surprise at the sudden Government of India (GoI) decision Thursday to send Keshav Kumar Pathak, the incumbent managing director of the National Highways & Infrastructure Development Corporation (NHIDCL), back to his parent cadre of Bihar.

The 1990 batch IAS officer's repatriation has come at a time when he along with his batchmates was keenly awaiting empanelment for holding Secretary- level post in GoI.
Soon after GoI's announcement of Pathak's repatriation, several theories were made and unmade in quick succession.
Since Pathak had earned the reputation of a sincere and studious worker, many were unable to figure out any good reason for his repatriation.
The surprise factor at Pathak's repatriation matched the surprise factor when he was brought to the Centre as MD, NHIDCL in October 2019. Many wondered then why he was put in charge of a capital-intensive infrastructure venture, considering he has a zero-tolerance level for wheeling deals.
Known among his colleagues for his professional integrity topped by competence, it is surmised that his brusque straightforwardness might not have been appreciated.
Or, is the NDA administration planning a major operation in Bihar where governance is said to have lost all meaning because of perpetual politicking? Since the BJP is the lead NDA-constituent in Bihar, it stands to reason that it can't let the current Bihar dispensation go on damaging the BJP by stealth.
Pathak is said to have a sounding understanding of Bihar's political culture and its roots, having dealt with the alcohol and sand mafias earlier in his career.
His cleanliness is vouched particularly by NE officials who had seen how roads and highways were constructed in the region in one season and they disappeared completely in the next season.
Pathak is known for his own personal style of doing things right and doing things speedily. In the NHIDCL, he ensured that the EDs and GMs are located at ground zero and visited their sites regularly and inspected the operation assigned to them so that in case of a problem, they could be held accountable.
So the issue of his transfer is seen wrapped in mystery.
(By Rakesh Ranjan)