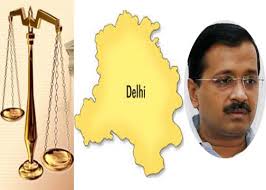 New Delhi (17.05.2023): In the light of the Supreme Court's last week order on transfers and postings of bureaucrats in the city, Delhi LG office has returned files related to services matters to the Delhi government. These files include proposals for extension of the contractual tenure of staff in various Delhi Government Hospitals and acceptance of the resignation of a Group 'A' staff of Deen Dayal Upadhyaya Hospital. These were sent to the LG for approval.
These files have been returned with the observation that departments may be advised to take appropriate action/further necessary action, in light of the judgment of Constitution Bench in Supreme Court on May 11. The SC on last Thursday that the elected government in Delhi has legislative and executive powers over services department matters, barring those related to land, police, and public order, that still come under the jurisdiction of the lieutenant governor.
There is definite confusion regarding files related to vigilance inquiry against Delhi CM and Ministers. Will the accused be custodian of the files having evidence against them? Kapil Mishra has accused that the Delhi government is trying to destroy evidence against the CM and Ministers by accessing the file in the wee house. There is an apparent desperation in the Delhi government which is allegedly using the court decision to save AAP leadership from corruption by wrong means.
ALSO READ