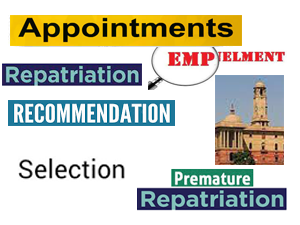 New Delhi (06.07.2022): Notifications of appointments and recommendations issued on Wednesday are as follows:
The additional charge of the post of CVO, State Trading Corporation of India Ltd. (STC) was assigned to Bir Singh Negi (IDAS:94) for a period upto 24.09.2022 or till the appointment of a regular CVO. Currently, Negi is CVO, Minerals & Metals Trading Corporation Ltd. (MMTC), Delhi.
The deputation tenure of Shankar Lal Bhalotia (IP&TA FS:1992), CVO, Damodar Valley Corporation (DVC), Kolkata, was extended for a period of 2 years beyond 13.08.2022 i.e. upto 13.08.2024.