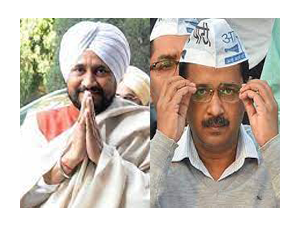 New Delhi (22.01.2022): Punjab chief minister Charanjit Singh Channi has decided to go for a head-on collision against Delhi CM Arwind Kejriwal for his malicious allegations. Channi said he will file a defamation case against Arvind Kejriwal for maligning his image using morphed pictures and dubbing him a dishonest man after the recent cash recovery by the ED during raids at multiple locations in Punjab.

"I have sought permission from the Congress high command to file a defamation case against Arvind Kejriwal for posting my morphed picture with cash on his official social media accounts and terming me a dishonest person," Channi said. Having handled the political crisis with acumen during PM's recent Punjab visit, Channi has emerged tall and gained ground all over the state. AAP's CM face Bhagwant Maan seems to be lagging behind. This may have frustrated the AAP leadership just before the Punjab polls. But Channi is not only expanding his base, he is reverting to his rivals vehemently. He is confident and aggressive, and now, the Punjab CM wants to show the mirror to Kejriwal.
Channi said Kejriwal was in the habit of making uncorroborated allegations and then apologizing for the same. "He had tendered apologies to Akali leader Bikram Majithia, Union minister Nitin Gadkari, Congress leader Kapil Sibal, and former Union finance minister late Arun Jaitley after making accusations against them," the Punjab CM said.
"What money came to me, what is my fault in this? Why are you dragging me into this? Someone else's money has been seized... there was a raid at ten places in Punjab, why are you linking me with it? ," Channi wanted to know from Kejriwal.