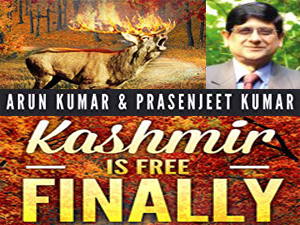 New Delhi (21.10.2021): The third and final book in the "Kashmir is Free" trilogy, written by Dr Arun Kumar (Retd IAS:1979:JK) and co-authored by Prasenjeet Kumar, was published this year in late August and is now available for readers.
Called "Kashmir is Free Finally", the book carries forward the story from Book I (Kashmir is Free, August 2018) and Book II (Kashmir Think It's Free, February 2019), where Kashmir's struggle to stand on its own feet was depicted from the lens of dystopia.
Dr. Arun Kumar is a retired IAS officer of the 1979 batch. During a long 38 years stint with the Government of India as well as the Government of Jammu & Kashmir, he has held a number of assignments related to education, energy (both conventional and renewable), environment, rural and urban development.
In his latest book, Arun has fictionalized India's response to ISIS' "Gązwa-e-Hind" which is the cherished Pakistani and Islamists' dream of conquering India.
"Kashmir is Free Finally" fictionally takes one into a not-too-distant future and answers all questions, leaving one in awe.
Spread over 406 pages and 104 chapters, this riveting politico-bureaucratic novel grips one attention until finishing this fast-paced 83,000 words thriller.
The book is available worldwide in both print and eBook versions from online retailers like Amazon and Flipkart.