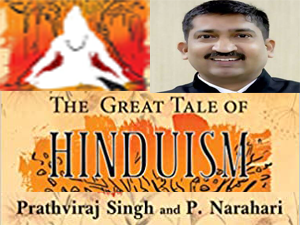 Authors Prathviraj Singh and P Narahari (IAS) have highlighted the role of Hindu philosophy in the formation and development of human society through their book "The Great Tale of Hinduism". They have done this by way of looking at the conception, evolution, and sustenance of Indian society through the lens of Hinduism, and have tried to explain the whole process through short Hindu mythological tales.
Prathviraj Singh, though trained in engineering, started his career as a businessman. Longing to evolve intellectually, he started gaining knowledge in as many fields as possible. He explored different cities of India to pursue courses in various disciplines like the Indian economy, financial planning, business strategy, and Indian politics.
P. Narahari is an IAS officer of the 2001 batch and an author. The Better India recognized Narahari as one of the ten most inspiring IAS officers of the year 2017. He has authored more than four books till now. Narahari is credited for establishing the usage of social media in the MP government. He is currently posted as Commissioner, Urban Administration, Government of Madhya Pradesh, in Bhopal.
The book wakes up the reader to discover that, eventually, the core values of Hinduism remain the same and support its relevance today and will continue to do so for eternity.
The book is available on Amazon.