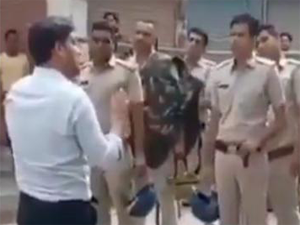 New Delhi (13.09.2021): The SMs are full of stories of how three incidents, involving three young IAS officers, dragged three state governments, civil administrations, and civil servants in general, into disrepute and weakened their relationship with the people.

All three incidents spanned between April-August 2021 during Covid-19 second wave and Farmers agitation and all three IAS officers were young (2012, 2013 & 2017 batch IAS). On all three occasions, the IAS Association was constrained to come out with its version of condemnation.
In the latest case of acute embarrassment, the Haryana administration has been compelled to send Karnal SDM Ayush Sinha, a 2017 batch IAS, on leave till the judicial inquiry submits its report on the August 28 Karnal incident in a month time. In a mass-circulated recording of the incident, the officer is allegedly heard telling policemen to "break their heads" if the protesting farmers crossed the line. Farmers' leaders claimed that the order led to injuring 10 and killing one in the lathi charge.
As the viral video brought shame to the whole civil services, Karnal DM Nishant Kumar Yadav personally apologized to minimize the outrage over the incident.
Earlier, on May 23 this year when the country was in the midst of the second wave of Covid, Surajpur District Collector Ranbir Sharma, a 2012 batch Chhattisgarh cadre IAS officer, slapped a man, smashed his phone, and asked policemen to beat him. Sharma had to apologize immediately after the video went viral and trigger a mass outrage, leading to the IAS (Central) Association strongly condemning the collector's deed, saying it was totally against the basic tenets of the service & civility.
A similar case happened in West Tripura where a marriage ceremony at a banquet hall was disrupted and vandalized by District Magistrate Dr Shailesh Kumar Yadav, a 2013 batch IAS officer. He drew the ire of people from across the nation after a video of him thrashing a groom and guests for flouting the night curfew went viral on April 26 this year.
(By Rakesh Ranjan)