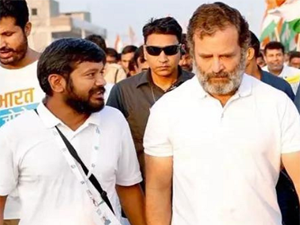 New Delhi (15.11.2022): Taking any political statement at its face value may land one in soup for instance media in-charge of the Congress Jairam Ramesh's statement in a press conference that former JNUSU president Kanhaiya Kumar is the most popular leader in the Congress after Rahul Gandhi. Is it really so?

Many may doubt it but many others will believe in this utterance made by media managers of the Congress as gospel truth in view of this coming straight from the person who is supposed to take the official line of the party.
Kanhaiya Kumar is a CPI turncoat who joined the Congress on September 28, 2021, but what has suddenly made him so popular that he is in maximum demand among Bharat Jodo Yatries after Rahul Gandhi? This needed to be announced at an official press conference. Kanhaiya Kumar is certainly a good orator with a 'Desi' touch in his speeches with good knowledge of the constitution that appeals to people. Fine, he connects instantly with the masses. But does Congress lack good orators?
Not really! There is a battery of good orators in the Congress from Priyanka Gandhi, Pawan Kheda, Manish Tewari, Supriya Srinet, Ragini Nayak, Sachin Pilot, Shashi Tharoor, Gurdeep Singh Sappal to even Gaurav Ballabh etc who are able to strike a rapport with people organically. Then why was Kanhaiya Kumar mentioned in a press conference?
Political analysts are of the view that fearless Kanhaiya Kumar could prove to be handy for the Congress to attack the ruling dispensation he has always been doing. Praise from the media chief of his new party will embolden him with the feeling that his political masters are by his side and bank on him. Contrary to those who have made fortunes won't be able to dare asking tough questions from the ruling dispensations despite having good oratory skills.
This could also be an attempt to alter the elite heavy structure of the Congress with Kanhaiya Kumar having the guts and the wits in juxtaposition helping him to establish an instant connect with the masses which emanates from his life experiences. This can be done only by those who have nothing to lose as he is among the rare lot of budding leaders who are not comprised yet. Agencies can't afford to waste time on him. This will also show the mirror to some of the dead woods in Congress that have become parasites for the organization.
Reposing such faith in him may have been the reason to take his services first in Gujarat to counter the BJP and AAP and then in Bihar to take away the upper caste vote bank of the BJP to help the Mahagathbandhan of RJD, Congress and JD (U) in Bihar. If this happens, the BJP will be the biggest loser and Mahagathbandhan will be the biggest beneficiary in the state as this has the potential of reversing the 2019 Lok Sabha election outcome in 2024. Bharatiya Tribal Party (BTP) and JD (U) are in talks for an alliance that may help Congress in the post-poll scenario in Gujarat.
The services of Kanhaiya Kumar could prove to be very useful in some other Hindi-speaking states like Uttar Pradesh, Rajasthan, Jharkhand and certain constituencies in West Bengal. Hindi speaking belt needs a leader with good oratory laced with a local touch. Remember the acceptance of former Prime Minister Chandrashekhar and former Bihar chief Minister Lalu Prasad among people whose rustic accents helped them to gain currency in the rural areas of their respective states.
Age by the side of Kanhaiya Kumar could prove to be a major dividend for Rahul Gandhi to take his help in 2024 Lok Sabha elections as heavy elite leadership of the party have become more of a burden for the party than an asset. If Congress baiters call Jairam Rames's statement a bizarre one made by a status quoist like him who has acquired a coveted position that many Congressmen desire to get, it still appears strategically relevant.
(By Vinod Kumar Shukla & Rakesh Ranjan)