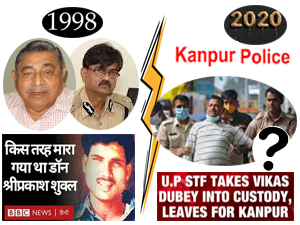 It appeared more of a surrender than an arrest. Finally, the gangster of Kanpur Vikas Dubey was shot dead in a police encounter while on the way back from MP to UP. Vikas Dubey's own scripted plot on Thursday morning unfolded amid high decibel drama. As a mastermind, he had cleverly designed his safety against the third-degree treatment of UP Police. He exposed himself opulently in the CCTV cameras and public eyes at Mahakaal premises. It was his miscalculation and the law of justice both. Rest will unfold with the police investigation and judicial proceedings but it raised numerous questions on the competence and credence of senior several senior IPS officers.
The Yogi government took little time to exhibit zero tolerance towards criminals by bulldozing the gangster's property and freezing bank accounts but it was not enough to cover up ironies of Kanpur police and criminal nexus.
Social media mocked the entire episode by trolling few officers ADG J N Singh, IPS Mohit Agrawal and many others who served in successive tenures in Kanpur region. Comments on FB and twitter also reminded that the prime accused of over 60 criminal cases continued to flex muscle which culminated into the barbaric attack on the policemen.
The attack claiming lives of eight policemen at Bikru village In Kanpur also reminds us of the professionalism of UP Police and senior IPS officers Ajayraj Sharma and Arun Kumar (currently DG RPF) and their team which neutralized the biggest don of his time Shriprakash Shukla on 22 September 1998. However, the difference between the encounter of Vikas Dubey and Shriprakash Shukla was that Dubey enjoyed political patronage while Shukla himself was a threat to politicians. (CLICK FOR BBC's REPORT; A FOLKLORE OF CRIME & PUNISHMENT).
The rise and fall of gangster Vikas Dubey deny giving a safe passage to the top cops who served in Kanpur in the last five years. And why not. With several exceptions, many of the top cops failed miserably to draw a parallel to Ajayraj Sharma and Arun Kumar. Police officers in Kanpur could have pre-empted the barbaric tale of Bikru rather than paying price. The mocking of UP Police by social media may not be fair but it was not short of facts and out of context.
It could be UP Poice's bigger victory had it neutralized Vikas Dubey with the same willpower and professionalism the UP Police eliminated Shriprakash in 1998.
(By Rakesh Ranjan)