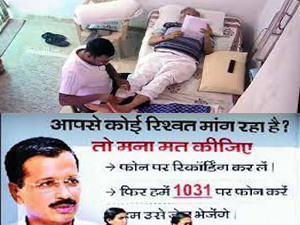 New Delhi (23.11.2022): The boon of new technology that the Aam Aadmi Party (AAP) wanted its workers to use to expose corrupt practices and against such people who demand bribes. CCTV cameras were promised to be installed to record crimes to nab perpetrators but they all turned out to be Frankenstein's monster for the party with every day a new video clip showing up in media and on social media embarrassing the party (AAP) and putting its leaders in the dock. So much so that Satyendra Jain's lawyer has even approached the court to restrain the media from telecasting this leaked CCTV footage.
But the question is that how CCTV footage of September is leaked to the media in November and the information that the person who is seen massaging Jain's body is in prison under POCSO on rape charges. Such information getting leaked to the media is not possible without the knowledge of authorities. But the AAP is unable to defend these leaks in the media. There are unanswerable questions and counter-questions posed before them. Timing and leaks are equally important but politics is about scoring points over each other supposedly.
There is a twist in the tale as every other leader of the AAP was suspended or terminated from the party including one minister in Punjab was sent to jail by the party itself and action was taken against a few others but despite being in jail for around six months, Satyendra Jain is still a minister. Political analysts say that there is something for which the AAP leadership cannot dare to ask for his resignation. On the contrary, Arvind Kejriwal in his own style of mocking opponents demanded Padma Bhushan for Jain for his good works in the Health Ministry like Mohalla Clinic across Delhi. Party leaders even defended massaging as physiotherapy which was denied by the organization of physiotherapists. Now, he is demanding food as per his religious belief to make it a minority issue.
On the other side, the BJP is pushing AAP leaders to the wall so that they are forced to ask for Jain's resignation but the moment AAP asks for Jain's resignation, they will be portrayed as accepting the guilt which could prove to be detrimental at this crucial juncture when MCD elections in Delhi and Assembly elections in Gujarat are underway. In a Devil in the deep sea scenario, if Jain remains in jail, his political opponents will target his party for corruption charges with further raids and questioning with Dy Chief Minister Manish Sisodia and his associates to send a message across voters in Delhi and Gujarat. But this has the chance to intensify and is unlikely to stop any sooner.
The AAP is already on the defensive with an alleged excise scam as it withdrew the Excise policy. The new LG VK Saxena opened one after another case against the party ever since he took over the reins of Delhi as LG which started with the order that no file will be accepted if it is not duly signed by Delhi chief minister Arvind Kejriwal. But two important developments too have definite meanings, one conman Sukesh Chandrashekhar writing to LG about alleged extortion by Satyendra Jain of Rs 2 crore per month as protection money. LG restrained DDCD Vice-Chairman Jasmine Shah from performing his duties by saying that a person cannot perform political activities along with holding a position in a Government or government affiliate organization and his office was sealed.
Barbs of AAP and Bharatiya Janata Party (BJP) leaders against each other can be heard everywhere. The BJP has its own set of arguments to castigate AAP which starts from the statement that the movement that started as a crusade against corruption under Gandhian Anna Hajare has become a den of corruption. There are over a dozen AAP leaders either in jail on corruption charges or on bail. Similar arguments are posed by Congress when it says that they accused everyone of corruption but when they are accused they are calling it a political vendetta instead of coming out clean.
(By Vinod Kumar Shukla)