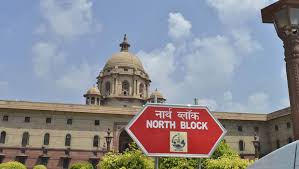 New Delhi (04.05.2022): Officials are unable to figure out the meaning of the recent large-scale reshuffle of Union Secretaries that took place on Monday.
However, Pradip Kumar Tripathi's (IAS:1987:UT) appointment (on a lateral-shift basis) as Secretary (Coordination) in Cabinet Secretariat by installing Mrs S Radha Chauhan (IAS:1988:UP) as the new DOP&T Secretary has triggered many stories that also include the take from the CSS Cadre. However, none of them convincingly explains the reasons.
In addition to the HR-related policy framework, the Department of Personnel & Training (DOPT) looks after important transfers postings of senior-level officers in the Government of India and is concerned with Cadre Management & welfare of 20k Central Secretariat officials, the CSS cadre version of the change of guard in this department may seem interesting even though it oversimplifies the change of guard in the department (DOP&T).
A large section of the CSS cadre looks, rather wishes to look, at the change with its own perspective. It presumes that it is the manifestation of the continuous embarrassment faced by PMO and especially MoS Dr Jitendra Singh as all his assurances regarding the immediate resolution of the long-pending issues of Central Secretariat Officers failed to be acted upon by the DOPT even after clear instructions.
Further, the said transfer is different in the sense that since 2014 secretaries posted in DoP&T served till their superannuation and Tripathi could also have continued as DOP&T Secretary till June 2024.
Earlier, on February 25, 2022, agitated with the non-resolution of their long pending issues of promotion, CSS Officers under the leadership of CSS Forum (their umbrella association) gathered in protest in front of the office of the Minister in charge of DoP&T at North Block. CSS Forum had then raised its voice and claimed that DoP&T did not work on any of the issues including promotions of CSS officers so far and officers were still retiring every month bearing huge financial losses.
Senior officials, though, believe that CSS Cadre's version might have been designed to escalate pressure on DOP&T and its new Secretary to fast-track the pending issues of the Cadre. Though the guardian minister for Personnel Dr Jitendra Singh had assured the Cadre to resolve their issues, one should not forget that the present regime at the Centre has its own way and timing to tackle critical issues.
The very viewpoint of a large section of CSS Cadre appears to ignore the fact that the matter of pending promotions has legal implications as well and secondly, the timing of PK Tripathi's shift from DOP&T to Cabinet Secretariat i.e. ahead of the completion of Cabinet Secretary's term in August this year.
(By Rakesh Ranjan)