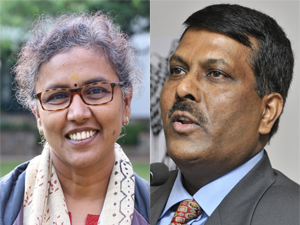 Chennai (16.11.2022): Considered to be one of the brightest civil servants down south, P Amudha (IAS: 1994: TN) was picked up for a promising posting in the Prime Minister's Office (PMO) on July 20, 2020 but after a short stint of fourteen months she was prematurely repatriated to the parent Cadre (Govt of Tamil Nadu) in the second week of October 2021.

When she was moved out of PMO, it appeared intriguing to many in civil services and outside both. But no one had a convincing answer then. But now, looking at hindsight, things appear to be less hazy. Within a few months after her return to the parent Cadre, her husband Shambhu Kallolikar (IAS:1991:TN) applied for the VRS. Insiders in Congress say that he is likely to join the party.
Normally, the reason for the VRS is asked from the officer but no one would certainly be writing that he/she wanted to take a plunge into politics. The government might have its own mechanism to know all this. Officially if things are not given in black and white, such matters are shared with the peer group. So who's who might have picked it up from these informal chats as a clue which partially defines the reason for Amudha's sudden premature repatriation.
A section of civil servants assumes that had Kallolikar sought VRS, presumably with political aspirations with the Congress or with any other non-BJP outfit, it could be a little awkward for the establishment and vice versa. In view of the above mentioned conjectures, one can understand the mystery behind the haste repatriation of one of the brightest and most upright officers who had served under two former Chief Ministers of Tamil Nadu, M Karunanidhi and J Jayalalithaa, to be sent back to cadre.
Amudha was brought to PMO as Joint Secretary in July 2020 and later elevated to the rank of Additional Secretary. In fact, the news of Amudha's premature repatriation surprised all and sundry as, then, none had the specific clue of her premature repatriation from PMO in less than 15 months.
(By Rakesh Ranjan)
ALSO READ: