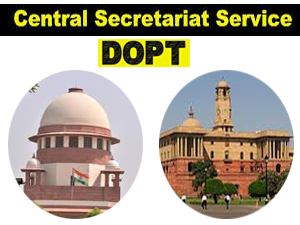 The DOPT on Tuesday wrote to Union Secretaries seeking a fresh status on vacancies in a given proforma (within 10 days or by 06 August 2020) on the latest vacancy position in their Departments/Ministries as on 30 June 2020.
DOPT's latest move ahead of Supreme Court hearing which is expected after 22 August has sparked off hope among thousands of Central Secretariat Service (CSS) cadre officers awaiting their dues in the promotion to DS/Director level despite fulfilling all eligibility conditions and a large number of existing vacancies. 'Reservation in promotions' and 'own merit in promotions' in the Government is sub judice before the Supreme Court in an SLP titled 'Jarnail Singh & Others Vs Lachmi Narayan Gupta & Others' since April 2019.
In its hearing in April 2019 the SC had directed to maintain 'status quo' which was not much clear to the implementing authorities and later several Ministries/Departments sought clarification from DOPT as to whether they could provide reservations in promotions or apply the concept of own merit in promotions.
As of now, more than 110 cases were tagged with the main SLP out of which 66 pertain to the Central Government and rest to various state Governments. All these cases too would get resolved once the SC comes up its judgment on the main SLP.
The lack of clarity on the 'status quo' has constrained the DOPT to expedite on thousands of promotions held up against existing vacancies. The CSS cadre officers have been complaining to the DOPT that the logjam in promotions has adversely affected their morale as well as the smooth functioning of the work in Govt of India. Indianmandarins had earlier learned that feeling the heat of manpower crunch at DS/Director level the Government of India has made up its mind to go for a mass recruitment drive to fill up 400 posts through lateral entry.
A Member of Parliament last month wrote to the Prime Minister that all other services were getting the promotions in spite of the pending Court cases and hence if posts could not be filled up on regular basis due to Court cases and the judgment was not expected early the promotions of CSS cadre officers could be made on an ad-hoc basis.
The SC hearing held on 22 July 2020 and DOPT's subsequent communication to Union Secretaries seeking latest reports on existing vacancies appear to have refreshed the hope of CSS cadre officers.