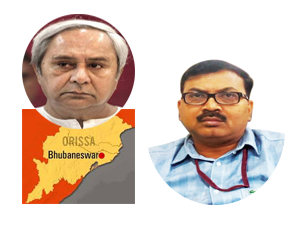 The Odisha Government on Monday effected a minor bureaucratic reshuffle reflecting its aspirations for social-sector.
Raj Kumar Sharma (IAS:1987:OR) was appointed as Agriculture Production Commissioner (APC) and will be supervising the socio-economic sector encompassing agriculture, cooperation and farmers' empowerment, fisheries, animal resources, commerce and transport Sector.
Pradipta Kumar Mohapatra (IAS:1987:OR) was given the charge of Health and Family Welfare; a sector which is of paramount importance in the time of COVID-19 Pandemic.
The incumbent Principal Secretary, MSME Satayabrat Sahu (IAS:1991:OR) was given the additional charge of Mass Education; a key social sector. It made a buzz in New Delhi that in a record 27 days the Odisha Govt sanctioned loans to the MSME sector to the tune of 2500 crores of which 1600 crores were disbursed so far. The Centre and states have been emphasizing on MSME together to revive the economy, employment and ensuring the welfare measures.
Mrs Anu Garg (IAS:1991:OR) was posted as Principal Secretary, Department of Water Resources (DWR). She will continue to hold additional charge of the Department of Women and Child Development and Mission Shakti.
Surendra Kumar (IAS:1993:OR) was posted as Principal Secretary Steel and Mines along with the additional charge as Chairman Cuttack Development Authority (CDA) whereas Chithra Arumugam (IAS:1995:OR) was posted as Principal Secretary Labour and ESI.