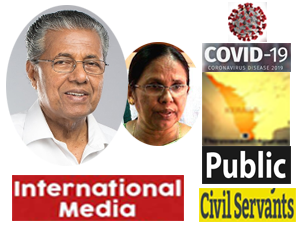 As of 8:00 AM on May 12, 2020, seven new coronavirus cases were reported in Kerala making the total number of active cases at 27 of the total 520 cases with 493 recovered and four dead.

Leave aside the tally in Maharashtra, Delhi, UP and Gujarat even active COVID-19 cases in Kerala's neighboring states Tamil Nadu stands at 7204, Andhra Pradesh at 1980 and Karnataka at 848 put Kerala in altogether a different league as far as COVID management is concerned.
There are several states but only a few of them actually 'walked the talk' in their fight against COVID-19 pandemic. Efforts made by the Kerala Government, led by Chief Minister P Vijayan, to check the spread of novel coronavirus (COVID-19) has won accolades from across the globe. Kerala's Health Minister K K Shailaja too was applauded for sensing the pandemic well before the time.
Over 35 international media outlets including the BBC and The Guardian praised Kerala's COVID resistance so much so that it was termed as 'The K factor in the fight against coronavirus in India'. The Washington Post has underlined that the Communist state flattened its Covid-19 curve. The MIT Technology Review made the headline 'What the world can learn from Kerala about how to fight COVID-19'. AlterNet USA wrote 'An often-overlooked region of India is a beacon to the world for taking on the coronavirus.'
Certainly, Kerala's investments in education and public health pay a dividend but the encouraging figures/tallies are said to be the outcome of timely and strategic decisions and collective will-power of the state leadership, its administration, and public awareness.
Indianmandarins.com tried to explore the whole bunch of civil servants who are said to have made the mark which is being termed as a K-factor throughout the pandemic.
Dr Rajan Khobragade (IAS:1993), Principal Secretary, Health and Family Welfare; Bishwanath Sinha (IAS:1992), Principal Secretary SC/ST and LSGD (Urban); K R Jyothilal (IAS:1993) Principal Secretary, GAD/Transport; Dr K Ellangovan (IAS:1992), Principal Secretary, Industries & Commerce are among a few senior IAS officers being talked about their proactive role and administrative acumen to deal with the crisis. The state government specially roped in Bishwanath Sinha to coordinate all the activities connected with the repatriation of the residents of Kerala stranded in other states dues to lockdown. Sinha is assigned to design SOP for such repatriation as per the guidelines issued by the MHA and has been managing the arrangements of trains singularly. Further, Dr Elangowan Principal Secretary, NORKA has been handling the repatriation of Keralites stranded in foreign countries.
For example 'Tiranga vehicle' launched by Pathanamthitta DC Nooh P Bawa (IAS:2012) initially became the symbol of Kerala's preparedness in the fight against COVID-19. Designed for rapid screening of symptoms was widely recognised for its mobility and strategic utility as it helped to reduce the risk of exposure of health workers as they go out to screen people with minimum risk of exposure.
Besides state's past handling of Nipah virus cases with which only Kerala was affected, all District Collectors especially Jafar Malik (IAS:2013), Malappuram; Suhas S (IAS:2012), Ernakulam; Gopalkrishnan K (IAS:2013), Thiruvananthapuram; Dr Adeela Abdulla (IAS:2012), Wayanad. Several Sub Collectors like Dr Vinay Goyal (IAS:2016); Snehil Kumar Singh (IAS:2016), Arun K Vijayan (IAS:2016), Asif K Yusuf (IAS:2016) and several other budding civil servants are said to have been playing a crucial role on the ground. Vijay S Sakhare (IPS:1996), IG and Special Officer for, COVID-19 prevention, Kasaragod, R Mohan PS to CM, M Sivasankar (IAS:1995), Secretary to CM; Dr Navjot Khosa (IAS:2012), MD, KMSCL are among another lot of senior civil servants being seen as a factor in the K-factor.
(By Rakesh Ranjan)