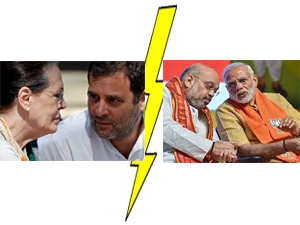 New Delhi (05.06.2022): The quitting of four ex-Congress ministers of Punjab highlights once again that the fortunes of Indian National Congress (INC) leadership have been fast dwindling benefiting the BJP.
Congress' continual decline means BJP has been gaining in several states across the country whereas INC leadership is nonplussed and clueless on how to retain power even in those states where it has a sound political foothold.
10-Janpath is seen losing political command as Congress leaders are quitting the party to join BJP. This gives credence to a new political theory----"Haari baazi ko jeetna koi BJP se seekhe, Jeeti baazi ko harna koi Congress se seekhe".
Congress is seen in an unstoppable decline in perpetuity in Manipur, Goa, Madhya Pradesh, Haryana, Uttarakhand, Punjab, Bihar whereas BJP fought and regained tuff turfs in UP & Uttarakhand including others and ensured the defeat of Congress in Punjab.
While Congress lacks leaders who can inspire confidence, BJP has lined up Himanta Biswa Sarma, Rita Bahuguna Joshi, Jyotiraditya Sindhia, Hardik Patel.
While Congress may accuse the BJP of poaching, the fact is the old party is unable to keep earning the loyalty of its hardcore supporters and so it lost leaders like
Jyotiraditya Scindhia, Rita Bahuguna Joshi, RPN Singh, Jitin Prasada, Hardik Patel and numerous others. Even in peripheral states like Manipur, Meghalaya, and Goa, the Congress has been unable to keep its flock together.
(By Rakesh Ranjan)