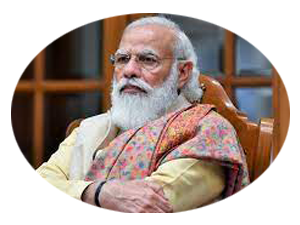 New Delhi (15.06.2021): The Union Cabinet may shortly see some changes as a measure of compromise with altered realities of the past one year or so. Hence some leaders like Jyotiraditya Scindia, Sarbananda Sonowal, Vinay Sahasrabuddhe, Anil Baluni, a JD(U) nominee, and a couple of more leaders may be inducted into the Union Cabinet. Simultaneously, some overloaded ministers could find relief as some of their extra portfolios may be transferred to new inductees. Possibly, some could be dropped from the Cabinet on the ground of non-performance or temperamental differences.
Since Ministers Prakash Javadekar, Dharmendra Pradhan, Piyush Goyal, and Kiren Rijuju hold several portfolios, they may be freed of at least one ministry. Ramesh Pokhriyal 'Nisank' may in all likelihood be out of the Cabinet. It is very unlikely for Union Health Minister Dr. Harsh Vardhan to continue with the same portfolio.
Sources informed Indianmandarins that the Information and Broadcasting Ministry will be given to a sharpshooter to spruce up the Government narrative and image which has been sought to be dented by a variety of interest groups that have not been comfortable with the NDA administration.
Smriti Irani, Piyush Goyal, Ravi Shankar Prasad, Dharmendra Pradhan, Hardeep S Puri, and Anil Baluni are seen to fit the bill for the I&B Ministry. Are they, really?
It is said that Baluni may be considered for a ministerial berth in view of the forthcoming Uttarakhand Assembly elections. This seems to be true for UP also and the state could get one more seat in the Union Cabinet.
Since independent Hindutva ideologues have been extremely harsh to the NDA administration for its perceived dilly-dallying on school textbooks that continue to glorify foreign invaders and make no mention of Bharat's epic struggle to preserve its culture and civilization, Vinay Sahasrabuddhe, who is seen on good terms with these ideologues being a strong Hindutva votary himself, may be considered for heading the Union Education Ministry.
(By Vinod Kumar & Rakesh Ranjan)