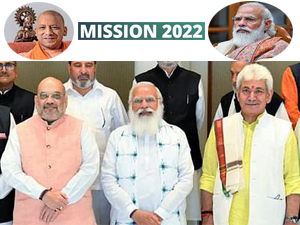 New Delhi (23.01.2022): The BJP top leadership is making an aggressive campaign in the UP assembly elections where they may secure a majority by getting around 230 seats. This is an unpredictable yet easy target but the BJP top brass is not confined to this agenda.

As usual, BJP is fighting might for a far better outcome as the decline in the number of assembly seats in UP impact the strength in Rajya Sabha which is key to their aspiration of swiftly introducing three controversial Bills in the Parliament ahead.
Their three crucial Bills include – Anti- conversion Bill, Uniform Civil Code in India, and Population Control Bill. It's been the biggest aspiration of RSS-backed BJP.
The margin of BJP's win in UP elections directly decides its strength in the Upper House of the Parliament, the fate of these three bills as well as Modi's prospects in 2024. This is what explains well why the BJP leadership is making the all-out effort for numbers in UP 2022.