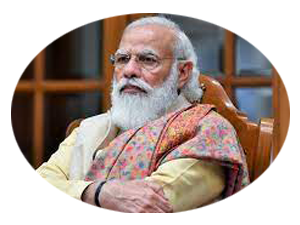 New Delhi (22.01.2022): Prime Minister Narendra Modi on Saturday asked district magistrates and district collectors to work on time-bound targets to increase ease of living for people and asserted that the country's goal today is to achieve 100 percent saturation of services and facilities.

Modi also called for a direct and emotional connection between administration and the public to ensure 'top to bottom' as well as 'bottom to top' governance flow.
In his remarks at the virtual interaction with DMs and some chief ministers, Modi said the teamwork of Centre, states and local administration was yielding good results in aspirational districts.
"Today, aspirational districts are eliminating the barriers to the progress of the country. With the efforts of all of you, aspirational districts are becoming accelerators of growth instead of impediments," he told the DMs.