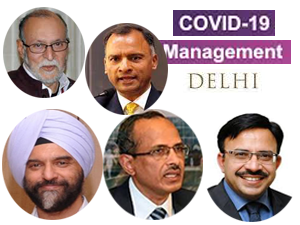 On repatriation from Central deputation, Bhupinder Singh Bhalla (IAS:1990:UT) was on Wednesday late evening posted as Principal Secretary (Home), Government of National Capital Territory Delhi (GNCTD). Prior to this Bhalla was working as Additional Secretary in the Union Commerce Ministry.

Further, S C L Das (IAS:1992:UT) and S S Yadav (IAS:1995:UT), who were on 14 June attached with GNCTD to assist the Lt Governor and Chief Secretary of Delhi in the management of COVID-19 situation in Delhi, have been assigned with specific assignments.
Accordingly; S C L Das has been assigned with the responsibility of handling the 'capacity augmentation of medical infrastructure and medical personnel' whereas S S Yadav will be handling the 'Community surveillance, management of containment zones, response systems and coordination with district administration'.
ALSO READ:
Six more IAS officers roped-in to manage COVID-19 in Delhi. Bhalla repatriated from Commerce Ministry