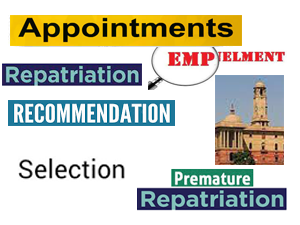 New Delhi (23.11.2022): Notifications of appointments and recommendations issued on Wednesday are as follows:
Ms Reena Nagar (ISS:2011) was appointed as Deputy Secretary in the Department of Rural Development for a period of four years.
Abhishek Narang (IRS IT:2008) was appointed as Private Secretary to the Minister of State for Commerce & Industry (Som Prakash) in the Ministry of Commerce & Industry for a period upto 31.12.2025 (i.e. maximum admissible limit of 07 years away from cadre). Currently, he is Deputy Secretary in the Ministry of Culture.