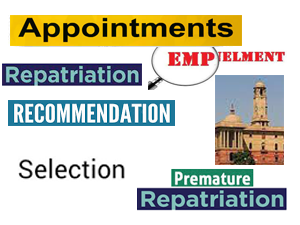 New Delhi (24.11.2022): Notifications of appointments and recommendations issued on Thursday are as follows:
The Central Deputation tenure of Manoj Kumar Singh (IAS:2009:BH), Private Secretary to the Minister for Power and New and Renewable Energy (Raj Kumar Singh), was extended for a period of one year beyond 19.12.2022 i.e. upto 19.12.2023, in relaxation of the upper limit of 5 years of working as PS/OSD in a Minister's staff or on co-terminus basis with the Minister. MK Singh counts his central deputation tenure w.e.f. 20.12.2017.
Rajeev Kumar (IRS:2006:IT) was appointed as Director in the Ministry of Culture for a period of five years.
Ms Niva Singh (IRAS:1988), Joint Secretary, Ministry of Minority Affairs, was prematurely repatriated to her parent cadre on the grounds of availing benefits of promotion in the cadre.
Dr Deepak Mittal (IFS:1998) was appointed as OSD (JS-level) in Prime Minister's Office. He will replace Rudra Gaurav Shresth (IFS:1999) as Joint Secretary after three weeks of his joining as OSD, PMO.
Dr Vipin Kumar (IFS:2013) was appointed as Deputy Secretary, PMO for a period of three years.
Ms Nidhi Tewari (IFS:2014) was appointed as Under Secretary, PMO for a period of three years.
M Sree Abhinav (IPS: 2014: TN) was appointed as Assistant Director in Sardar Vallabhbhai Patel National Police Academy (SVPNPA), Hyderabad for a period of five years.